Us bloggers are multi-taskers. We run our own blogs and post as many times a week as we can, we work or study full time, we have social lives, family commitments and other hobbies, and we try and participate on social media and chat to our fellow blogging buddies. All of this can sometimes mean that when it comes to finally having a spare hour to sit down and draft up some new posts that we're lost and have no clue where to start.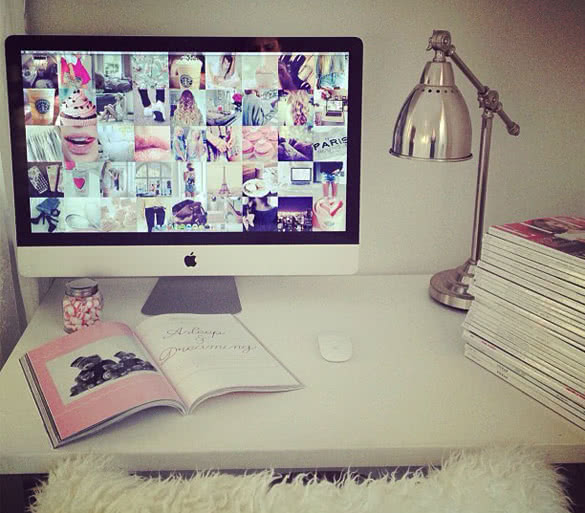 Source: We Heart It
As a lot of you know I'm currently juggling studying a full-time masters with blogging and I have had a serious case of blogger's block lately. I sit down when I have a spare hour on a Sunday morning with plans to write up as many posts as possible and my usually over-running brain is just empty. No thought swirling around my head, no ideas jumping out of my brain. I'm sure you guys have experienced this in the past, so for today's post I thought I would share 50 Post Ideas for when you have blogger's block. This way I can look back on this post when I'm really struggling for inspiration.
1. Wishlist (both beauty and fashion!)
2. Favourite bloggers
3. Favourite Instagram accounts
4. Current favourite beauty products
5. An OOTD
6. Five things that make you happy
7. Talk about a hobby you love
8. A tag post
9. A tour of your bedroom
10. Photography tips and tricks
11. Reasons why you love blogging
12. Hallowe'en/Christmas/Easter themed posts
13. Your everyday makeup routine
14. Your current music playlist
15. Favourite YouTubers
16. Introduce us to your pets
17. A holiday-themed OOTD (eg. Hallowe'en costume, Christmas party outfit)
18. Your everyday hair routine
19. A day in the life of you
20. A recipe post for your readers to try
21. Your style inspirations
22. High street trends you're loving
23. Five things that you're grateful for
24. A book review
25. Photography post filled with pretty photos you've taken
26. The ultimate pamper night
27. A lazy Sunday post
28. A weekly round-up with lots of Instagram photos
29. Write a post about something you're passionate about
30. Top tips for saving money
31. Your favourite ways to de-stress
32. A beauty product review
33. Your favourite healthy foods
34. Childhood memories
35. A letter to your younger self
36. Goals for the month ahead
37. Places you've visited and why you loved them
38. A film review
39. Five countries you'd love to visit
40. A look back at your blogging journey
41. People and/or bloggers that inspire you
42. Interview another blogger and discuss their blogging inspirations
43. Five things you're grateful for
44. Your fitness regime
45. Reasons why you love autumn/winter/summer/spring
46. A restaurant review
47. What's on your bucket list?
48. A day out lifestyle post
49. Your holy grail makeup products
50. Your very own 50 post ideas for when you have blogger's block!
Do you have any more ideas?
How do you combat blogger's block?
Lots of love,
Jessie. xoxo
Twitter | Instagram | Bloglovin'