This Sunday the clocks go forward here in the UK and today I am excited would be an understatement. I love summertime and, call me Scrooge, it is my favourite time of year even though we have Christmas in the summer. I just love the carefree days, long summer nights and of course, spring/summer fashion!
As the weather warms up we can finally say goodbye to large coats, woollen scarves and chunky boots. Don't get me wrong, I adore AW fashion too, but somehow I find everything is so much prettier in the summer. So many bright colours, prints, shapes and things to really make you stand out in the crowd. And SS15 fashion is no exception!
Sleek Stripes
Sleek stripes are a huge trend for the summer and I, for one, am so happy about this. Spotted on catwalks from the likes of Paul Smith to Preen. Stripes are a great way to elongate your body and are so slimming, so suit all body shapes and sizes! I personally prefer to opt for the vertical pin stripe as I feel it's so classy and gives an edge to any outfit. Wear for any occasion, whether it's a casual day out with friends, a date night or even a special occasion, and your guaranteed an outfit that oozes sophistication. The classic monochrome look still reigns supreme, but variations that clash colours and shades are also super hot for this SS15.
Double Denim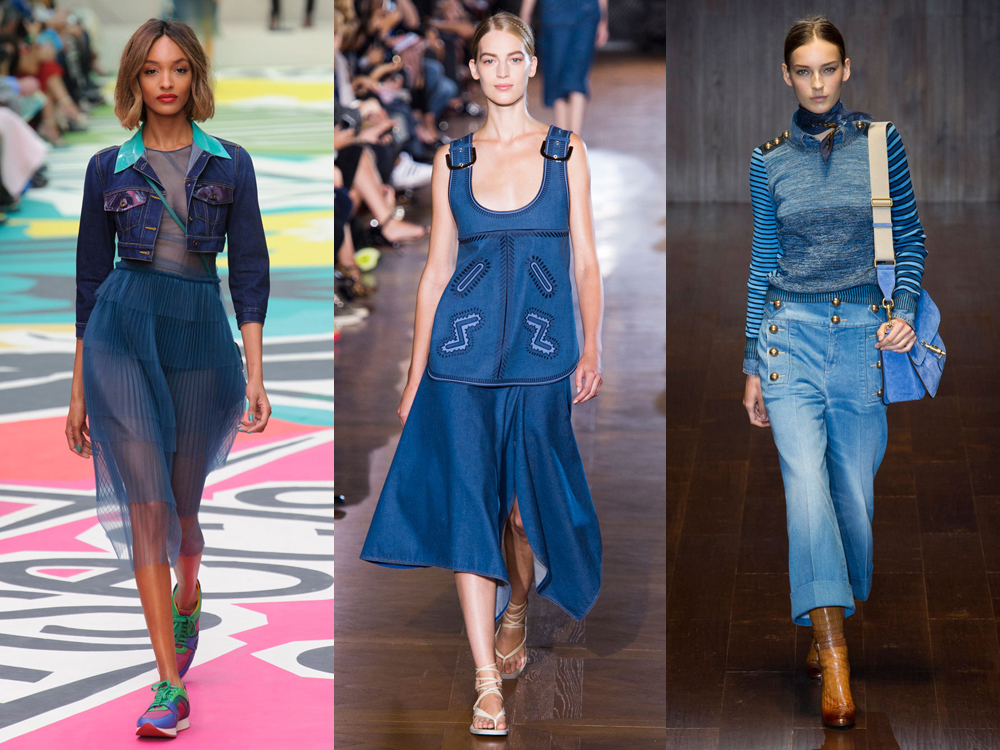 Image Source
Nope, you're not back in the 90s – double denim is back! It's been creeping onto the catwalks for a while but it looks like this summer it's here to stay. Designers such as Stella McCartney and Burberry featured it all over SS15 fashion weeks, with items ranging from indigo mini jackets (great to throw on when the weather is a little chilly or in the evening!) to the denim dress (which is already appearing across the high street). Denim is the ultimate choice for a casual, dressed down day but mixing shades and statement pieces will help give your look that edge.
Military Khaki
Khaki could possibly be my new favourite colour for spring/summer as I have fallen in love with the military trend. It's just so versatile and can work for ladies of all shapes, sizes, skin tones, ages – it basically works for everyone – and it also works for all occasions. Chanel and Marc Jacobs opted for a more casual look with trench jackets, shorts and sandals, while Ralph Lauren really went all out with extravagant frocks and gowns, really showing the versatility of this trend. I just think it's fab as it's so chic and stylish and with items ranging from jumpsuits to shirts to skirts to dresses it offers something to fulfil everyone's tastes.
Bold Florals
A trend we see recurring on SS catwalks again and again are the bright and bold florals, and it's a summer trend that never fails. In the summer the weather is (mostly) glorious and spirits are high, so what better way to make a statement than in beautiful bright prints? The bolder the better and the clashing colours make for a fabulous outfit to really lift your mood. These looks from Lulu and Co and House of Holland rock that trend with a psychedelic edge.
What are your favourite SS15 trends?
What are you going to be wearing this spring?
Lots of love,
Jessie. xoxo